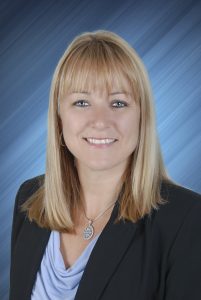 Tiffany Packard
General Sales & New Home Specialist
Tiffany Packard/The Jeff Miloff Team
Tiffany Packard lives in Cape Coral and has been diligently working within the SW FL community to expand her client base and area knowledge since entering the Real Estate sector in 2004. Her vision drives her to excel in any challenge she undertakes and her business mission is to create a win-win for all parties involved in any transaction. Her goal is to provide her clients with the necessary information for them to make an informed buying decision. Facilitating good decisions backed by sound data, she believes, is the key to success.
Tiffany began her career while completing her college degree in the Northern Virginia area, as an intern with First Guaranty Mortgage Corporation, giving her vital experience in the mortgage industry. Subsequently, she accepted a position with Option One Mortgage Corporation and spent the next 4+ years developing her sales skills and sharpening her customer service skills. Eventually landing in SW FL, she decided to change gears and pursue a career in Real Estate. She has not looked back since…
Tiffany graduated from George Mason University, School of Management with a BS in Business Administration in 2004. She continues striving to improve her business skills through independent studies and self-improvement techniques.
Tiffany lives in Cape Coral, Florida with her dogs. She is affiliated with the Chamber of Commerce, Women in Business, Young Professionals & WCR to name a few. Tiffany enjoys pleasure reading, tennis, beach volleyball, giving back to the community and spending as much of her free time as possible at the beach.
Conducting herself with integrity and honesty are of utmost importance and she wishes to align with likeminded, forward thinking individuals. Her sincere desire is to provide the highest level of customer service to her clients and to above all do the right thing. Look to Tiffany's expertise to help you with your goals. Contact her via email @ her tiffany@miloffaubuchonrealty.com. Call direct 239.989.3198.
TESTIMONIALS
"Dear Tiffany,
The purpose of this letter is to express my appreciation of your efforts surrounding the recent sale of our home.
We were pleasantly surprised, and extremely pleased, that you facilitated the sale of our home in three short weeks. I am convinced that this outcome was a direct reflection of your professional approach and attention to detail. We appreciate the time you took to understand our needs and every effort you made to exceed our expectations. We appreciated your responsiveness which made the entire process stress free.
Please accept this letter with our sincere thanks. Please feel free to share this letter with prospective clients."
Sincerely,
Robert & Jorid Irwin
"Hi Diane,
We were very happy with Jeff and Tiffany they did an excellent job. The communication and professionalism was exceptional. Very, very happy. We highly recommend Jeff and Tiffany. The closing company did an excellent job as well."
Jill & Dave Callahan
"Dear Tiffany,
It's wonderful to know that honesty and hard work are not forgotten nor lost virtues with you and your staff. It was a pleasure dealing with the Miloff/Aubuchon family. I came to you a wreck and you made it all better. I can't thank you enough for all you did to facilitate the sale of my home. It was expedient, thorough, and fair to all parties. I would recommend you to ALL my friends and family. The buyer was perfect as well! I truly can't thank you enough. I sincerely believe many great things await you!"
I remain,
Gratefully yours,
Ivette Basora
"Dear Diane,
We have nothing but good to say about Tiffany. Her sales presentation was solid, her feedback was excellent and she kept us in the loop at all steps of the way. Next time we buy a home in your area (on the spreader) we will certainly contact Tiffany again."
Olle & Britt Mannertorp
"Tiffany,
I can't express enough what your gift meant to me. You are so thoughtful and I appreciate everything you did for me and my brothers in what turned out to be a very emotional experience for us.
I wouldn't hesitate for a moment to recommend you to anyone in need of a realtor. You are AWESOME!!
Have a great weekend!!"
Dorian McClain
"We were very excited & happy with the work Tiffany did on the sale of our home it could have not gone better. Thanks so much, have a great day!"
Irene