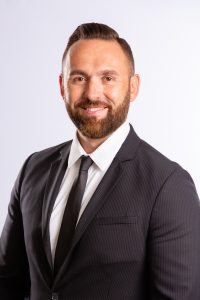 Anthony Tiljak
Illinois
Anthony Tiljak was born in Chicago, Illinois.  He moved to Florida to escape the "Windy City", and to enjoy the warm weather and the area's sandy beaches.  Anthony went to college to become a Paramedic, and he has made this his career for the past 15 years.  He served in the emergency room, in ambulances, and as a student instructor.
Anthony has a passion for helping people and guiding them through the process of making difficult decisions.  That's what lead him to pursue a career in real estate.  He loves that in real estate no two days are the same.  Anthony is excited to start his career with Miloff Aubuchon Realty Group because of the unbelievable reputation they have in the real estate business.
"I've always had the mindset that in order to be the best you have to surround yourself with the best," says Anthony.
Anthony married his high school sweetheart and they have three amazing children together.   He treasures spending time with his family, enjoying the beach, and living the Southwest Florida lifestyle he had always dreamed about!
You can contact Anthony at Atiljak@miloffaubuchonrealty.com, or 239.285.0020.
Client Reviews
"Anthony is definitely the go to realtor for us. He went well above and beyond to not only sell our house, he also helped find us the house we wanted in the neighborhood we fell in love with. I would recommend Anthony for any real estate transaction you have. Thanks Anthony." – Mike & Jennifer Sullivan
"Anthony is awesome. We have to say that he truly went above and beyond. We are new to the state and only knew the town we were looking to move to, Anthony gave us plenty of options, gave referrals as we needed them and insured that we got the MOST for our money. Anthony was always quick to respond to whatever we needed and addressed many of the details. Would definitely recommend!! Who would have thought that home buying could be so easy."  – James & Kelly Lunghi
"Anthony is definitely your choice when it comes to buying a home. He worked hard with our unique situation of moving here from 1500 miles away during a pandemic. He was patient, professional, knowledgeable and very trustworthy. He quickly figured out what our taste and needs were and found us a great new home. You will not find a better professional to be in your corner in searching for a home." – Scott & Marita Bruner
"Anthony Tiljak is a very dedicated hardworking realtor. He went above & beyond to ensure that we found the perfect home to purchase. He also sold our condo and again went beyond our expectations to ensure that things went smoothly. Highly recommend Anthony." – Dan & Linda O'Hara
"Anthony was one of the best agents we have ever worked with. He went above and beyond, helping us with every element of purchase and sale. Anthony reached out to us multiple times, offering to help resolve technical concerns with both sale and purchase." – Ernie & Cindie Bucks
"Anthony Tiljak is the most hard-working, courteous, knowledgable, caring and informative real estate agent we have dealt with in the Cape Coral area. He was constantly looking for our perfect home and would often tell us he wouldn't show us anything that he wouldn't buy for his own family. Living in Minnesota provided us with challenges in the buying process but Anthony was always available to answer questions, helped with inspections and made the sale and transactions go as smooth as possible. Anthony is an honest, hard-working midwesterner. His guidance, passion for his job and his expertise in all areas shine brightly for us. We are proud to consider him part of our family! We would highly recommend him to anyone and everyone that is looking to buy real estate and since we come from an educational background we would definitely give Anthony an A+." – The Schroeder's
"As someone who has moved multiple times, I can say with ease that Anthony by far has been the best realtor I have worked with. From day one, Anthony impressed us with his hard work ethic and made every step easy for us throughout the home buying process. Any problem that occurred (such as with our bank or getting necessary documentation), Anthony was taking care of it within seconds and we were able to close in record time. He is truly an amazing realtor and fought for us every step of the way and got us into our dream home. I would highly recommend Anthony to anyone looking for a realtor cause I know he would do just as an amazing job for anyone as he did for my family. Thank you, Anthony, for everything!" – Chase & Sarah Contri
"Anthony is truly a professional that handled our interest with care, candor, and enthusiasm. He is always positive, solutions-driven in a highly charged and emotional environment.  He is professional in his approach but not a starchy robot of correctness.  His advice is sensible, balanced and refined and without his help, we would have walked away from a great deal.  We enjoyed his guidance and perspective to bring our purchase to fruition.  He was not just interested in closing a deal fast but wanted to make sure we are happy and comfortable with our purchase." – Roman & Bojana Roither
"Anthony helped me acquire my current home. As an agent, he proved to be honest and reliable. He is extremely hardworking, professional and knowledgeable in his field. It's true that he goes above and beyond to achieve your goals. Even after the closing, he was still there offering any assistance I needed. As a person, he is a warm, kind and caring individual. It was a great experience working with him. I would highly recommend Anthony to anyone seeking a top notch realtor." – Doreen Learning