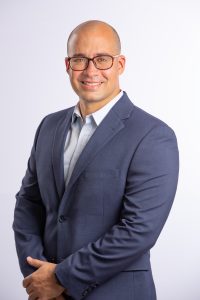 Chris Aleman
Cuba - New York
Chris Aleman was born and raised in Cuba.  He studied Accounting, making it his career for a long time.   He worked with companies of all sizes, helping them grow and succeed in their business.
Chris lived in New York City for 10 years, but knew something was missing.  He longed for the sound of the sea and the warm weather of his childhood, as well as the much more relaxed lifestyle that comes with it.
After nearly a decade of bitter winters and crowded streets, he decided to pack- up and moved his family south to settle down in Cape Coral.  Chris says he visited this beautiful town a year ago and fell in love with it.
Chris has experienced first-hand and has seen throughout his career the benefits of owning real estate. He truly believes that the best investment a person can make is to buy their own home.
Chris is committed to helping make this dream possible for others.  What better way to accomplish this than as a Realtor® with Miloff Aubuchon Realty Group.
He is very honored to be part of the roster of such a great organization, one of the indisputable leaders in the industry, but also one that gives so much back to the community.
Chris's passions are his wife, his two boys, his dog Moana, and his family – near and far away in his native island.  He also enjoys the outdoor life in Southwest Florida.
Chris Alemán nació y creció en Cuba. Contador de profesión, trabajó durante varios años en companías de todos los tamaños y pertenecientes a varias industrias, ayudándolas a crecer con el desempeño de su gestión.
Chris vivió en la ciudad de New York por 10 años pero siempre supo que algo faltaba en su vida, ese sonido constante del mar y ese clima siempre cálido de su niñez. Es por esto que después de una década de crudos inviernos y calles tumultuosas, recogió sus maletas y junto a su familia se estableció en Cape Coral, ciudad que lo había cautivado al visitarla un año antes.
Chris ha experimentado personalmente y ha sido testigo durante su extensa carrera en el mundo de los negocios del inmenso beneficio que supone el poseer bienes raíces, creyendo firmemente en la idea de que la mejor inversión que podemos hacer como personas es poseer nuestra propia casa.
Su compromiso mayor es ayudar a hacerle este sueño realidad a cuantos le sea posible, y qué mejor manera de lograrlo que como Realtor® con Miloff Aubuchon Realty Group.
Para él es un honor ser parte de tan magnífica organización, uno de los indiscutibles líderes en la industria, pero también uno de los más activos ayudando a la comunidad.
Las eternas pasiones de Chris son su esposa, sus dos hijos, su perra Moana y su lejana pero cercana familia en la isla que lo vió nacer. Y por supuesto, el clima y el estilo de vida en Southwest Florida