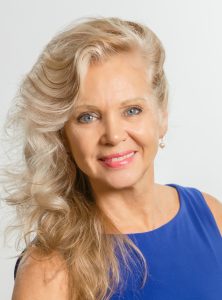 Elin Sonne
Denmark
Elin Sonne: Broker Associate, ACCRS, PRM
Elin Sonne was born in Denmark and immigrated to the United States with her parents in 1962. She earned a Bachelor's degree in physical therapy from Andrews University in Michigan which allowed her to coach and direct high school students for ten years. Recognizing Cape Coral's affordable living opportunities and waterfront living, Elin relocated to Cape Coral with her husband, Rich in 2004. She recounts the decision to make SW Florida her home at the pier in Cape Coral's Yacht Club; "We looked up and down the river and said to ourselves, 'we can do this'!"
During the first few years, Elin worked as an assistant property manager for a local real estate company, doubling their business in only three years! Elin has always been an innovator. In 2010, her and her husband started their own property management company and successfully operated it for five years.
In late 2015, she decided to add a new chapter of adventure to her life by joining Miloff Aubuchon Realty Group. Elin is thrilled to offer multiple real estate opportunities her clients can enjoy, whether they're looking to build or buy. Her long-term plan is to take her roots to Australia and join her children and grandchildren.
Elin's career is short of one dimensional! She has owned a decorating/wallpaper hanging business, completed a five year missionary tour in India, and lived all over the United States stretching from Maryland to the outskirts of California. These days Elin is passionate about pumping iron in the gym, remodeling/home improvement, photography and scuba diving, among many other hobbies!
Elin is a member of the Women's Council of Realtors, Cape Coral. She was named President in 2014 and Realtor of the Year in 2013. Contact Elin, 239.989.6713, esonne@miloffaubuchonrealty.com.