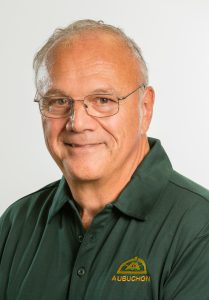 Jim Scialabba
Repairs & Maintenance Coordinator
Jim was born in Bronx, New York and was raised in Port Washington, Long Island. He attended C.W. Post Campus of Long Island University for Accounting and Business Management. Jim was drafted in 1968 and enlisted in the Army for the Special Agent Army Intelligence.
Jim married his wife Teri in 1970. Jim and Teri have four boys and three girls. He worked as a manufacturing engineer for 25 years, with the Penn Central Railroad, Conrail, Mack Trucks, and Allied Signal Bendix. Jim also specialized as a Computerized Manufacturing System Manager. He taught team building, metallurgy, designed fixtures, and material handling systems.
Jim and his family moved to Cape Coral in 1997. Jim's family has been visiting the Cape since 1972 when his mother and father moved here. Jim and Teri's children graduated from Cape High, Mariner, and North High. Jim and his wife also have two mixed breed large dogs. Jim enjoys reading, gardening and he loves to fish. Jim believes the greatest treasure in his life is his children and grandchildren.
Jim volunteers at the Vineyard Community Church on the Cooking and Grill team. He also belongs to a mentoring group assisting teenage boys that come from single parent homes. His past roles include a scout master, water safety instructor, and youth football coach. Jim also has a Fourth Degree with the Knights of Columbus.
Jim is also a State Certified Residential Contractor. He has been building and remodeling homes since 1964. Jim's hard work and motivation as the sole provider for his family resulted in Jim applying these same qualities throughout his career. Now with Miloff Aubuchon Realty Group, he has the drive to continue top notch service for his customers. He joined the Miloff Aubuchon Property Management and Rental Division in 2010. He is the Repairs and Maintenance Coordinator and he's responsible for maintaining more than 800 homes.
Jim is a dedicated family man who understands the value of hard work. He enjoys all the simple things in life that make up for a great living experience. When you invest in our property management program, look to Jim for assistance with repairs and maintenance issues for your rental property.