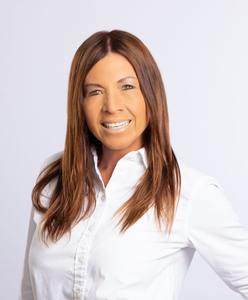 Michelle Comrie
Cape Town, South Africa
Michelle Comrie was born in beautiful Cape Town, South Africa. Her desire for challenge and exploration of different cultures drove her to travel the world at a young age.  She lived and worked on 3 continents including 5 years in London. The pull of the ocean, stunning beaches, and great weather drew Michelle full circle.  She has now made Southwest Florida her home.
Michelle started her career in finance and retail banking.  She worked in technology development within financing while in London.  This evolved into a long and successful career in technology recruiting in Oracle, SAP, and Microsoft technologies.  That's where she fell in love with helping negotiate one of the most important decisions in someone's life, career, and employment – not dissimilar to buying or selling a home. 
Michelle has 20 years of deep experience in successfully matching "buyers and sellers" in complex and challenging environments, to optimal outcomes that meet and exceed both the hiring manager's and the candidate's expectations.  This rich foundation in building strong relationships and understanding the needs and desired outcomes of her client are what set Michelle apart in real estate.
Michelle loves using her negotiating and outside-the-box strategic thinking to work directly with clients who quickly become friends. She thrives on hard work and driving through to the results that matter for her clients. Integrity, honesty, and straightforward advice and guidance are at her core. Michelle balances strong professional skills, which include effective problem solving and negotiating, with a keen sensitivity to the needs of her clients; each can expect her commitment to 'serve them, not sell them.'
Before joining Miloff Aubuchon Realty, Michelle and her husband were clients, twice!  They bought land, their piece of paradise, through Miloff Aubuchon Realty.  Then they built their "dream forever home" through Aubuchon Homes.  They wanted to do business with a highly reputable firm that demonstrates a strong ethic and commitment to clients and invests in the local community.  The experience as both a real estate client and a new construction client impressed her.  So, the decision to join the team as a full-time realtor was a slam dunk.
When not working, Michelle enjoys family time with her husband and fur babies boating and fishing.  Her multiple sporting interests include kiteboarding and Ironman triathlons.  She gives back to the community by supporting cancer research and various animal causes.  Michelle also enjoys continuing to explore and experience the world and its diverse cultures.