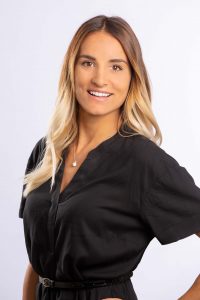 Rebecca Sawchuk
Germany
Rebecca Sawchuk is a licensed Real Estate Agent with Miloff Aubuchon Realty Group.
Rebecca was born and raised in Germany.  Her family owned a home in Lehigh Acres and visited Southwest Florida often when she was growing up.  Her Romanian-born parents were never able to fulfill their dream of moving to the United States, but Rebecca made it her goal.  After graduating from high school, she became an Au Pair, then a licensed Travel Management Assistant, and eventually a licensed Flight Attendant for AirBerlin.
"Florida is paradise to me and I have a passion for making everyone else feel the same way about it," says Rebecca.
Rebecca moved to Florida full-time in 2016.  With her entrepreneurial spirit, she established her own Property Management Company.  While building her own business she also helped to manage more than 70 properties including vacation rentals for a friend's property management company.  In 2019, she added the title of licensed Real Estate agent to her list of accomplishments.  Rebecca took her dedication to serve others and her love of the area and turned it into a way to help people buy and sell their own piece of paradise.
"My priority is providing amazing service, building a great long-term relationship with my customers, and being the helping hand for people during this major milestone."
Communication is important to Rebecca.  She speaks three languages fluently (German, English, and Romanian).  She feels this sets her apart in Southwest Florida and especially in Cape Coral with so many multi-cultural residents.
Rebecca and her husband love raising their daughter here in Southwest Florida where they spend lots of time outside with her running and playing.
*****
Rebecca Sawchuk ist eine lizenzierte Immobilienmaklerin bei der Miloff Aubuchon Realty Group.
Rebecca ist in Deutschland geboren und aufgewachsen. Ihre Familie besaß ein Haus in Lehigh Acres und als Rebecca aufwuchs, besuchten sie regelmäßig den Südwesten Floridas. Ihre in Rumänien geborenen Eltern konnten sich ihren Traum vom Auswandern in die USA nie erfüllen, aber Rebecca machte es sich zu ihrem eigenen Ziel. Nach dem Abitur wurde sie Au Pair, dann lizenzierte Reiseverkehrskauffrau und schließlich ausgebildete Flugbegleiterin bei AirBerlin.
"Florida ist ein Paradies für mich und ich habe eine Leidenschaft dafür, allen anderen das gleiche Gefühl zu geben", sagt Rebecca.
Rebecca zog 2016 endgültig nach Florida. Mit ihrem Unternehmergeist gründete sie ihre eigene Hausverwaltung und verwaltete mehr als 70 Häuser. 2019 wurde sie eine lizenzierte Immobilienmaklerin. Rebecca nahm ihr Engagement, um anderen und ihrer Liebe zur Region zu dienen, und kreierte daraus einen Weg, Menschen zu helfen, ihr eigenes Stück Paradies zu kaufen und zu verkaufen.
"Meine Priorität ist es, einen hervorragenden Service zu leisten, eine gute langfristige Beziehung zu meinen Kunden aufzubauen und den Menschen während dieses wichtigen Meilensteins zu helfen."
Kommunikation ist Rebecca sehr wichtig. Sie spricht drei Sprachen fließend (Deutsch, Englisch und Rumänisch). Sie ist überzeugt, dass sie dies im Südwesten Floridas und insbesondere in Cape Coral, mit so vielen multikulturellen Bewohnern, auszeichnet.
Rebecca und ihr Ehemann lieben es, ihre Tochter hier im Südwesten Floridas großzuziehen, wo sie viel Zeit draußen mit ihr beim Laufen und Spielen verbringen.