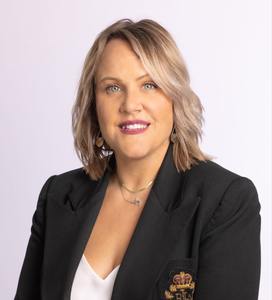 Stephanie Robinson
Director of Property Management
Stephanie Robinson was born and raised in Cincinnati, Ohio.  She decided she was done with the snow for good and moved to Florida in June 2020.   With her husband, John, and 2 Great Pyrenees, they quickly settled into Cape Coral life.  Rounding out their family are their two amazing kids.  Their son enjoys Florida life with them.   Their oldest daughter chooses the "snow life" and lives in Ohio, blazing her own path.
Stephanie has nearly 15 years of experience in the multifamily sector of property management navigating and managing local multifamily communities.   After gaining knowledge of the local Southwest Florida multifamily market, she decided to take it one step further and earned the title of Florida Realtor.  This opened the door for new opportunities, hence bringing her to Miloff Aubuchon Realty and the Aubuchon family.
Whether it's shark teeth hunting (the collection is pretty cool), taking random drives in the jeep to find new places to explore, finding cool new thrift shops, or getting her hands dirty with her new plant obsession, she is not one to sit still for long.
Stephanie's motto:  life is what you make it and I intend to make it fun!