5th Annual Offshore Rodeo Raises $70,000 for RMHCSWFL
June 29, 2017 | Events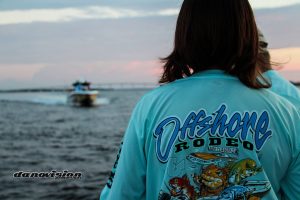 The fifth annual Offshore Rodeo Fishing Tournament reeled in more than just fish for Ronald McDonald House Charities of Southwest Florida on June 10 at Salty Sam's Marina. Jeff Miloff, partner,Miloff Aubuchon Realty Group and RMHC past board president, created the Offshore Rodeo event to help offset the cost of the Ronald McDonald Family Room that opened this May inside the newGolisano Children's Hospital. As a result, the total dollar amount raised has reached nearly $400,000 in the event's five-year run.
Rain didn't stop the junior anglers from having fun. Children ages 3-12 cast their lines in a Kids Fishing Tournament on the docks of Salty Sam's Marina sponsored by Coastline Heating & Cooling, iMold.us, Coastal Outfitters and Fish Florida. Each junior angler took home a fishing pole and tackle box, courtesy of Fish Florida. They were entertained by Ronald McDonald himself, and enjoyed lunch compliments of McDonald's.
Meanwhile, the offshore anglers reeled in 10 different species for the chance to hook top prizes and enjoyed their fresh catch for dinner, prepared compliments of Bootleggers Waterfront Grill. They also took part in an extensive silent auction and enjoyed live music throughout the evening.
"We have a phenomenal committee that has met year-round for five years, many of them team members of Miloff Aubuchon Realty Group," said Mr. Miloff. "It has been a great event not only for the anglers but for spectators and families too — thanks to this committee, the RMHC staff and volunteers and our sponsors, we have raised close to $400,000 for this charity over the past five years. The time and dedication that goes into making this event a success is tremendous and I can't thank these individuals enough!"
Sponsors included Miloff Aubuchon Realty Group, Texas Roadhouse, Mortgage 1, Bootleggers Waterfront BBQ , Salty Sam's, Beasley Broadcasting- B103.9, Beasley & ESPN, Arthur Printing, Jaguar, Vein Specialists, Lobster Lady, Sunset Air, iMold, Coastline Heating & Cooling, Nor-Tech Hi Performance Boats, Essley Roofing, TowBoatUS and Capital Bank.
Article by: http://fortmyers.floridaweekly.com/news/2017-06-28/Top_News/Offshore_Rodeo_raises_70000_for_Ronald_McDonald_ch.html