Miloff Aubuchon Realty Group Celebrates 20 Years
April 22, 2019 | Company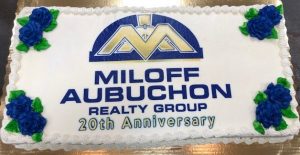 Two decades ago, Jeff Miloff and Gary Aubuchon teamed up to open Miloff Aubuchon Realty Group.  In April, the team celebrates 20 years of offering a unique one-stop shop buying and selling experience.
"When Gary and I first started working together we used MLS books and caravans to sell property," Jeff Miloff reminisces.  "Now we're using virtual tours to show property and anyone can look up information about a property from their phone.  We've seen a lot of changes over the past 20 years."
Miloff Aubuchon Realty Group has developed a reputation as one of the most respected brokerages in the area.  They consistently rank as the #1 Independent Real Estate firm in Cape Coral.  They also rank in the top five in Lee County.
"Our success through the years has come from our dedication to delivering outstanding customer service," explains Gary Aubuchon.  "All of our agents create Raving Fans, not just satisfied customers."
Miloff Aubuchon Realty Group is part of the Aubuchon Team of Companies.  The team includes Aubuchon Homes, Evalutions by Aubuchon an interior design firm, and Omni One Title.  The main office is located at 4707 SE 9th Place in Cape Coral.  It is also home to a Mortgage One and a McGriff Insurance Services office.  The building sits in the heart of downtown Cape Coral just north of 47th Terrace in Club Square.  As the city continues to grow, year-round activities surround the location.
Miloff Aubuchon Realty Group recently expanded into Fort Myers, opening a new office location at 15661 San Carlos Boulevard.  Similarly, they serve customers across southern Lee County from their Estero Sales Center located at 19976 S. Tamiami Trail.
Through their partnership with Aubuchon Homes, Miloff Aubuchon Realty Group offers its agents a unique opportunity to learn about new home construction.  This fall, Aubuchon Homes unveils a new 3,600 square foot West-Indies inspired home.  The Carleton is located just off McGregor Blvd. in Fort Myers.  Miloff Aubuchon Realty Group agents will learn about the home from top to bottom.  Then, they will be on hand to answer visitor's questions and assist home buyers through the new construction process.
The success of Miloff Aubuchon Realty Group, its partners and its agents is due in large part to their mission of giving back to the local community.  The team has contributed more than $500,000 to local charities.  Most notably, they donate frequently to Ronald McDonald House Charities Southwest Florida, Make-A-Wish Southern Florida, Builders Care, Cape Coral Animal Shelter, The Foundation for Lee County Public Schools, and many more.