Dive into Summer
June 27, 2019 | Events
Dive into Summer by getting out to enjoy all that Southwest Florida has to offer.  Here's What's Happening in July!
"Beauty & The Beast" | Broadway Palm Dinner Theater
July 1 – July 31
"Be Our Guest" as we step into the enchanted world of Disney's Beauty and the Beast! The classic "tale as old as time" tells of Belle, a young woman in a small town, and a Beast, who is really a young prince under a spell. If the Beast can learn to love and be loved, the curse will end and he will be transformed into his former self. Time is running out and if the Beast doesn't learn his lesson soon, he and his household will be doomed forever. The spirited, headstrong Belle enters the Beast's castle after he imprisons her father and with the help of his enchanted servants, Belle begins to draw the cold-hearted Beast out of his isolation. Buy your tickets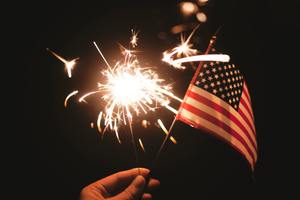 July 4th | Independence Day Fireworks:
Fort Myers Freedom Fest – Downtown Fort Myers 6pm-10pm | www.myriverdistrict.com
Red, White & Boom – Cape Coral 5pm-10pm | www.capeboom.com
4th of July Fireworks – Fort Myers Beach Pier 8:45pm-10pm
Star Spangled Bonita 4th of July – Bonita Springs 5pm-10pm | www.cityofbonitasprings.com
Naples Pier 4th of July Fireworks – Naples 9pm | www.paradisecoast.com
Art Walk | Downtown Fort Myers
July 5 from 6-10 pm
A must do in the River District social scene is the monthly Art Walk. Always on the First Friday, visit the many exciting galleries, exhibitions, and performances. Free to the public with many venues featuring additional attractions and specials.
Sunset Celebration at Time Square | Fort Myers Beach
July 5 & 6 and Every Friday and Saturday from 6-10 pm
Live Music, Food and Fun at Time Square on Fort Myers Beach. www.fortmyersbeach.org
Cape Coral Farmer's Market | Cape Harbour
July 6 and every Saturday from 8 am-1 pm
Overflowing with fresh, local and healthy produce, fruits and foods, along with melt-in-your-mouth baked goods, made-on-site guacamole, salsas, homemade jams & jellies, pickles & olive mixes, cheeses, take home foods and much more.​
River District Farmer's Market | Downtown Fort Myers
July 11 and Every Thursday from 9 am-1 pm
Every Thursday year-round at Centennial Park west of the Caloosahatchee Bridge! This lively green market offers a variety of local produce, seafood, baked goods, honey, nuts, cheese, flowers, plants & more for the discerning shopper.  A fixture of the downtown Fort Myers River District since 1994, the market is popular with both tourists in season and locals during the summer months.
Jurassic Quest| Lee County Civic Center
July 12 from 3-8 pm & July 13-14 from 9 am-8 pm
Jurassic Quest is the largest and most realistic dinosaur event in North America.  Go back in time 60 million years and see more than 80 living, walking, breathing animatronic dinosaurs. For more information and tickets click HERE.
Yappy Hour | Bell Tower Shops
July 12 from 6-8 pm
Ditch the bones and toys and bring your pooch to Bell Tower Shops for Yappy Hour, where you can meet adoptable dogs, sip on cold refreshments from the outdoor bar and listen to live music with your four-legged friend. This is a free event open to the public with proceeds from the event to benefit the Gulf Coast Humane Society.
Meet Marvel Superheroes | Naples Zoo
July 12th – 14th from 10 am -3 pm
Thor and Spider-Man will be at the Naples Zoo. The meet and greets are included with admission (free for members). Buy discounted tickets online today!  www.napleszoo.org
Free Parks & Rec Fun Day | Cape Coral
July 13 from 9 am-12 pm
July is National Park & Recreation Month!  CELEBRATE at the Wm. Austen Youth Center and discover what Cape Coral's parks and recreation centers have to offer!  This event will feature a number of FREE activities for ALL AGES including games, inflatables, arts and crafts, a trackless train, live critters, prize giveaways and much more! Plus, get a chance to see the Parks & Recreation Fun-Mobile in action!  In addition, several community partners will be on hand to offer free services like child fingerprinting and tours of a fire truck, and to showcase other recreation opportunities in Cape Coral.
Mango Mania Tropical Fruit Festival | Cape Coral
July 13 & 14 10am-5pm
Held at the German American Club in Cape Coral, Mango Mania is a summer festival and celebration of Pine Island's Mangoes and other tropical fruits. It is a festive, informal and incredibly fun family event.
Music Walk | Downtown Fort Myers
July 19 from 6-10 pm
The River District comes alive on the third Friday of the month as local and regional musicians line the streets. From jazz and blues to rock & roll, many genres can be heard and vary each month. Free to the public with many venues featuring additional attractions and specials.