Let Us Give Thanks…
October 29, 2019 | EventsUncategorized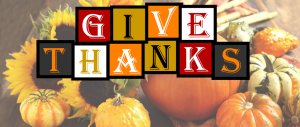 Here's What's Happening in Southwest Florida this month!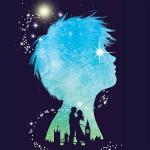 "Finding Neverland" at Broadway Palm Dinner Theater in Fort Myers, Now through November 16th
Based on the Academy Award-winning film of the same name, Finding Neverland tells the incredible true story behind the creation of one of the world's most beloved characters: Peter Pan. Playwright J.M. Barrie struggles to find inspiration for his next work until he meets a beautiful widowed mother and her four young sons. Spellbound by the boys' enchanting make-believe adventures, he sets out to write a play that will astound London theatergoers. With a lot of faith and a little bit of pixie dust, Barrie shares his journey to Neverland, where nothing is impossible and the wonder of youth lasts forever. Buy your tickets
Art Walk Downtown Fort Myers River District, November 1st from 6-10 pm
A must do in the River District social scene is the monthly Art Walk. Always on the First Friday, visit the many exciting galleries, exhibitions, and performances. Free to the public with many venues featuring additional attractions and specials.
Sunset Celebration at Time Square on Fort Myers Beach, Every Friday and Saturday from 6-10 pm
Live Music, Food and Fun at Time Square on Fort Myers Beach. Every Friday and Saturday from 6-10 pm! www.fortmyersbeach.org
Downtown Farmer's Market in Cape Coral, Every Saturday Now – May 9th from 8 am-1 pm
Overflowing with fresh, local and healthy produce, fruits and foods, along with melt-in-your-mouth baked goods, made-on-site guacamole, salsas, homemade jams & jellies, pickles & olive mixes, cheeses, take home foods and much more.​
Taste of Lee at Centennial Park in Downtown Fort Myers, November 2nd from 11 am – 6 pm
The 6th Annual WINK Taste of Lee will feature over 30 local food trucks and restaurants. The day will be highlighted by amazing entertainment by local bands. Admission is $10 for ages 3 and up with unlimited children's entertainment, including rock-wall climbing, inflatables and interactive activities.
SWFL Food Truck Nationals at JetBlue Park at Fenway South in Fort Myers, November 2nd from 11 am – 7 pm
Forty of the best gourmet food trucks in the area will be competing for "Top Honors" and one of a kind custom trophies. World famous DJ "Tommy Tunes" will be performing, along with a live band. Plenty of free parking and admission is just $5. Active military and kids under 12 are free.
Gin Blossoms Live in Concert at Seminole Casino Hotel Immokalee, November 2nd at 6 pm
From their breakout 1992 album through today, the Gin Blossoms have sold more than 10 million records and are one of the most in-demand live artists. Tickets are $5, with proceeds benefiting the Guadalupe Center, which provides educational programs for over 1,300 children in Immokalee. Gates open at 6 pm for this outdoor concert, which will offer open seating. Attendees should bring their own chairs. No pets or coolers will be allowed in the venue. Click here
Daylight Saving Time Ends November 3rd – Remember to Turn Back the Clock!
Downtown Farmer's Market in Fort Myers, November 7th from 9 am-1 pm and every Thursday
The Fort Myers Farmers Market, located underneath the Caloosahatchee Bridge in Centennial Park every Thursday year-round from 9 a.m. to 1 p.m., is growing with the addition of new vendors. NEW LOCATION: Broadway between Second & Main.
Fort Myers Fair at Fenway South, November 8-10th, 15-17th, 22-24th
Three Weekend Event: Fridays: 5 – 10 pm, Saturdays & Sundays 1 – 10 pm. Admission is $8 per person, 3 and up; children 2 & younger get in free. Discounts available online prior to event: Buy your tickets
Plenty of fair and carnival entertainment including: rides, games, petting zoos and carnival style food from several vendors. Featured shows include a Pirate Show, Grizzly Bear Experience, Magic Show, Hypnosis Show and a Cowtown USA Show.
Cape Coral Coconut Festival at Sun Splash Family Waterpark, November 7th-10th
The Cape Coral Coconut Festival started in 2005 at Sun Splash Festival Grounds and has come to be known as the city's signature event! Over the last decade, attendance has grown significantly, hosting over 20,000 people! This nutty event with national performers, community entertainment, carnival rides, fireworks, and great food offers a long weekend full of family fun for residents and visitors from all over.  For more information visit the event website.
Yappy Hour at The Bell Tower Shops, November 8th from 6-8 pm
Held on the second Friday of each month, Yappy Hour is the area's largest pet-friendly social hour, providing an evening of fun for pet lovers and their four-legged friends. Throughout Yappy Hour, visitors will have an opportunity to stop by dog-friendly sponsor stations and meet adoptable dogs from the Gulf Coast Humane Society.
Cape Coral Veteran's Day Parade, November 11th at 11 am
Join the community to honor our American Heroes and pay tribute to those who lost their lives, those who served honorably and those who are still proudly serving our country. The Veteran's Day Celebration is a cooperative effort of the City of Cape Coral Parks and Recreation and other local supporters.  The parade will be on Cape Coral Parkway beginning at 2pm from Del Prado to Chester Street.
Music Walk Downtown Fort Myers River District, November 15th from 6-10 pm
The River District comes alive on the third Friday of the month as local and regional musicians line the streets. From jazz and blues to rock & roll, many genres can be heard and vary each month. Free to the public with many venues featuring additional attractions and specials.
2019 Cape Coral Animal Shelter Golf Classic at Coral Oaks Golf Course Saturday, November 16th from 8:30 am – 2 pm
Registration includes Breakfast, On-Course Beverages (beer, soda and water), Luncheon, Goodie Bag and Prizes!  Register Here! Any business wishing to donate an item to the Golf Goodie Bag is welcome. Great event for a great cause!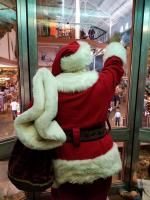 Santa's Arrival and Kick-Off Event, November 16th from 5 – 8 pm at Bass Pro Shops in Fort Myers
Come for the parade and wait for Santa's arrival. Free giveaways included: Hot cocoa & cookies, 4×6 photo w/Santa, crafts and much more!
Sand Sculpting Championship on Fort Myers Beach, November 22nd through December 1st
Come join us on Fort Myers Beach for the 33rd Annual American Sand Sculpting Championship. Over 2,000 tons of sand will be piled and manipulated by World Class & Amateur sculptors alike. Advance discount tickets are on sale now. Click here
Paradise Coast Wine & Food Experience, November 23rd from 1 – 4 pm
Paradise Coast's 3rd Annual Wine & Food Experience featuring Martha Stewart will deliver the region's finest bites and fine wines, craft beers and spirits to sample. The culinary event will feature celebrity guest, Martha Stewart, cooking demonstrations and a Grand Tasting Experience celebrating Paradise Coast's culinary sceen along with the region's leading gourmets and restaurateurs. This is a 21 & up event. Get your tickets HERE
Helping Hands for the Holidays at Aubuchon Team of Companies, November 25th from 5:30-7:30 pm
Join the Aubuchon Team of Companies for the 21st Annual Helping Hands for the Holidays charity event at their corporate headquarters in Club Square, 4707 SE 9th Place, downtown Cape Coral.  The event is open to the public with free admission. The evening includes delicious food and drinks donated by local restaurants, a Rockefeller-style Christmas tree lighting ceremony, and complimentary photo sessions with Santa Claus!
Yappy Hour at Fathom's Restaurant, November 29th from 5 – 7 pm
The Cape Coral Animal Shelter & Fathom's Restaurant invite you to join them for their monthly Yappy Hour. B.Y.O.D. (Bring Your Own Dog) Come enjoy an evening of outdoor entertainment all for a good cause!
Joyful Holidays Tree Lighting in Fort Myers, November 30th from 5 – 8 pm
Join us for Gulf Coast Town Center's 2nd Annual Outdoor Tree Lighting Event! There will be lots of holiday fun and entertainment for the whole family.
Get Out & Enjoy Southwest Florida!