Miloff Aubuchon Realty Group Named Exclusive Brokerage for Marina Villas at Cape Harbour
February 19, 2020 | CompanyEvents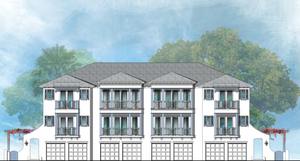 LDC Cape Harbour Holdings announces plans to develop the remaining 17.1 acres of vacant land in the Cape Harbour community located in Southwest Cape Coral, Florida.  LDC Cape Harbour Holdings is a developer team associated with Landstar Development Group and Waterstone Builders.  The proposed development, Marina Villas at Cape Harbour, will complement the feel and style of the Cape Harbour community.  Plans for the first phase of development include a mix of two & three-story townhomes with one or two-car garages and waterfront villas with two-car garages.  Townhomes in Marina Villas, with spacious 3 bedroom floor plans, will be priced starting from the mid-300's. Gulf access waterfront 3-bedroom single-story villas will start at just under one-million based on location and optional features.
Renowned as one of the most beautiful mixed-use Gulf access communities in Cape Coral, Cape Harbour offers restaurants, retail shops, a marina, boat storage, boat rentals, and entertainment for the enjoyment of residents and visitors in a walkable waterfront landscaped environment.
A Grand Opening event will be held February 14-16, 2020 at the Marina Villas at Cape Harbour Sales Center located at 5703 Cape Harbour Drive, Cape Coral, Florida. Miloff Aubuchon Realty Group, Inc. has been selected by LDC Cape Harbour Holdings as the exclusive on-site sales team.  They will join the developer for the Grand Opening event.  The Marina Villas at Cape Harbour Sales Center Sales will be open 10 am to 6 pm daily beginning February 14, 2020.  For more information call 239.542.1075.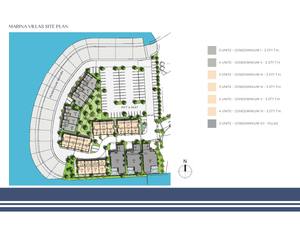 Above: Proposed site plan for Phase 1 of Marina Villas at Cape Harbour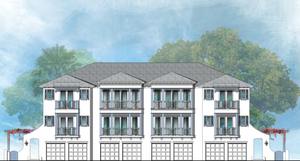 Above: Proposed elevation illustration of a 3-story townhome to be built in Marina Villas at Cape Harbour.
ORAL REPRESENTATIONS CANNOT BE RELIED UPON AS CORRECTLY STATING THE REPRESENTATIONS OF THE DEVELOPER.  FOR CORRECT REPRESENTATIONS, MAKE REFERENCE TO THIS DOCUMENT AND TO THE DOCUMENTS REQUIRED BY SECTION 718.503, FLORIDA STATUTES, TO BE FURNISHED BY A DEVELOPER TO A BUYER OR LESSEE.
These materials are not intended to be an offer to sell, or solicitation to buy a unit in the condominium. Such an offering shall only be made pursuant to the prospectus (offering circular) for the condominium and no statements should be relied upon unless made in the prospectus or in the applicable purchase agreement. In no event shall any solicitation, offer or sale of a unit in the condominium be made in, or to residents of, any state or country in which such activity would be unlawful.