Current Southwest Florida Real Estate Outlook
April 19, 2022 | Blog
Homes across our area continue to sell at a record pace averaging 24 days from listing to offer acceptance for all property types.  For the 12-month period spanning April 2021 through March 2022, sales were up 7.9 percent overall.
Homes priced at $450,000 or more saw the largest gain, where they increased by 60.1 percent.  The overall median closed price was up 26.4 percent to $335,000.  Single-family homes prices increased 25.0 percent to $375,065. Homes priced in the $200,000 to $449,999 range tended to sell the quickest at 19 days.
Inventory continues to pose a problem across all property types.  Market-wide, inventory levels were down 63.7 percent. The single-family segment lost the least inventory decreasing 57.3 percent. That amounts to 0.9 months supply for single-family homes and 0.6 months supply for townhouse/condo.  Here's a look at the latest real estate activity across Southwest Florida in the past 7 days.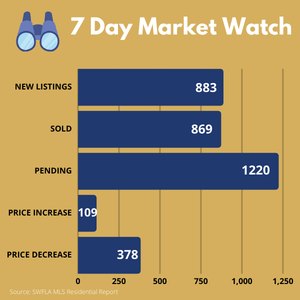 Nationally, existing-home sales recently dropped to a 6-month low, falling 7.2% amid rising prices and historic low inventory. Pending sales are also down, declining 4.1% according to the National Association of REALTORS®.  Across the country, consumers are feeling the bite of inflation and surging mortgage interest rates, which recently hit 4.6% in March, according to Freddie Mac, rising 1.4 percent since January and the highest rate in more than 3 years.