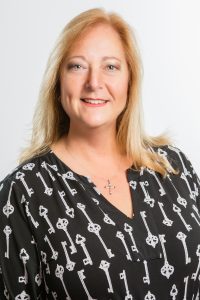 Jacque Miloff
Pennsylvania
Jacque is originally from Philadelphia, PA where she first discovered her love for the water and the beach. At the age of 10, she moved to South New Jersey (exit 0 on the Parkway). She spent every summer on the beach in Cape May with friends and family enjoying water sports and the sun.
In 1986, Jacque met and married her husband Jeff in New Jersey and left the area for beautiful sunny Florida. Just a short time later, Jeff and Jacque convinced their family members to move to this place they call home and paradise – Cape Coral. Now, the family is here together, including Jacque's brother and sisters, and Jeff's mother, brother, and sister.
Jacque has extensive experience working and managing people, and transactions successfully. Early in her career, she worked in the family business in the wedding industry, helping brides-to-be coordinate colors, dresses, and accessories for several years.
As a result of Jacque's business experience, it's no surprise she is more than an expert when working with people to find the perfect solution. Her patience, listening skills, and ability to read her clients' needs are what sets Jacque apart as a true professional.
Jacque has a unique understanding of the home building process. She has gained a vast amount of experience from working in the many different areas of the company. When she first joined Aubuchon Homes in 2001, she worked as a Selections Coordinator where she helped homebuilding customers with selecting appliances, colors, flooring, cabinetry, countertops, plumbing fixtures, and more. She also worked in the Estimating area where she coordinated pricing for new home build customers and worked in the pre-construction phase. The Miloff's also built their home with Aubuchon Homes, giving Jacque an even more comprehensive understanding of the build process.
Several years ago, Jacque obtained her real estate license and is now helping clients find the right lot and home, and consults with clients on how to get started building their dream home. Jacque is a passionate, energetic, and upbeat person who has the ability to make everyone around her feel welcome and important!
In her free time, she enjoys horseback riding, spending time with friends and family, and the unconditional love that comes from her pets; a horse named Hope, a Labrador named Buddy, and a cat named Tigger.
Jacque's motto is taken from the inspiration of her horse trainer, Pat Parelli: "If you take the time it takes, it takes less time." Contact Jacque, jmiloff@aubuchonhomes.com or 239.565.3628.