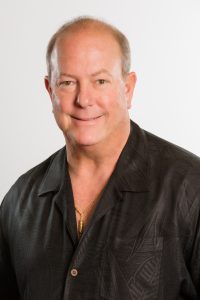 Jeff Miloff
Broker
Originally from the East Coast of Florida, Jeff Miloff served six proud years in the US Coast Guard, where he was stationed in Cape May, New Jersey. After meeting his wife, Jacque, a Jersey native, they soon made the decision to return to the sunshine state, this time to the West coast, where beautiful Southwest Florida became their home.
Jeff began his career path in sales selling a wide array of products from Kreepy Krauly vacuum cleaners to pet supplies. Once he joined the real estate industry in 1989, he quickly realized it was his passion. As fate would have it, Jeff met and partnered with Gary Aubuchon of Aubuchon Homes in 1999 to initiate a real estate company – and Miloff Aubuchon Realty Group was born. He also partnered with Gary in Omni One Title Services.  This would become the third of four companies under the umbrella of the Aubuchon Team of Companies.
Through many ups and downs, and an unwavering dedication to hard work, this once small real estate company has evolved into one of the top independent firms in Southwest Florida. Now with nearly 90 real estate agents, Miloff Aubuchon Realty Group is currently the #1 independent firm in Cape Coral, and #2 in Lee County.   With almost 30 years' experience in real estate, Jeff's influence has led the firm to achieve more than $2 billion dollars in sales.  A visionary leader, Jeff spearheaded a Property Management/Rental division, a Commercial division, a Real Estate Information and Model Home Center, 2 additional real estate offices in Estero and Fort Myers, a Miloff Aubuchon Agent Referral Network, and the latest division, Omni One Insurance Services.  Jeff's contributions and willingness to take risks has enabled this enterprise to weather the downturns in the market and come back even stronger. Jeff's newest adventure is his partnership in the concept and development of Cape Coral's first ever food truck park: Slipaway Food Truck Park & Marina.
As a successful realtor, Jeff's customers rely on his unique insight into the industry. His work ethic, values, and service to the Southwest Florida community allows him to build long lasting relationships. Whether they are first time or seasoned customers, he works tirelessly to help them achieve their real estate goals. Jeff's ability to think outside the box, embrace change and dedicate himself to his customers brings him continued success, consistently ranking among the top 10% of agents in Lee County. His business includes referrals from customers who consistently return to him for all of their real estate needs.
Jeff is an optimist, continually setting goals and pushing himself to improve, personally and professionally. His motto, "Work Hard, Play Hard, Give Back Hard" means you will find him working out in the early morning hours at the local gym, putting in a 10-12 hour day, and then attending charitable events in the evening.  He's organized dozens of fundraisers including poker and fishing tournaments, as well as serving on several non-profit Boards throughout the years.  In his downtime, Jeff enjoys fishing, boating, and spending time with family, friends and his loyal dog, Stella.
Jeff's Accolades:
Mentor, Valerie's House Pals (Current)
Past President, Royal Palm Coast Realtor Association (2016)
Past President, Cape Coral Association of Realtors (2007)
"Humanitarian of the Year", Cape Coral Association of Realtors (2015 & 2010)
Broker of the Year (2012)
Past President, Ronald McDonald House Charities SWFL (2011-2012) and Board Member
President's Award recipient, Ronald McDonald House Charities SWFL (2010)
Jeff's Raving Fans:
"For the past few years, I have contemplated purchasing a winter home in Florida on the gulf side. I was introduced to Jeff last year. Jeff has been extremely helpful and understanding of my wants and needs. Because I live in Michigan, in the past, it has been very difficult to work with a realtor in Florida. That is until I met Jeff, he truly understood what I was looking for and only contacted me with properties that he knew I would be truly interested in. Jeff's commitment to his profession and his customers is outstanding. He found us the perfect home in just a few short months. I would recommend Jeff Miloff for all of your real estate needs." – Dan Minor
"My husband and I have known Jeff Miloff professionally for about 25 years. He helped us find property, which we sold later for another property, upon which we built our Aubuchon dream home. In between, Jeff helped us buy and sell rental property. Most recently, ready to go to a smaller home, we of course sought out Jeff to sell that home. He worked extremely well, giving Open Houses, advice and continuous support until we sold our home. His staff are pros, with great communication, upbeat attitudes, and tireless work ethics. We have been very happy with Jeff Miloff and his Team, and highly recommend them as the best Realtors in the Cape." – Joanne and Bob Syversen