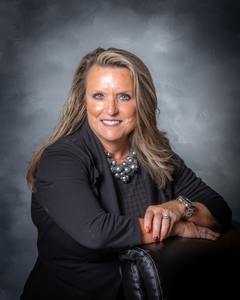 Nita Whaley
Indiana
Nita Whaley moved to SWFL from Columbus, Indiana in 2017.  She holds an MBA and a B.S. in Management from Indiana Wesleyan University and an A.S. in Finance from Ball State University.  She's held a Certified Treasury Professional certification (CTP) from the Association of Financial Professionals from 2004-2017.
Nita has over 25 years of experience in banking/finance, where she specialized in medical, hotel, manufacturing, and real estate lending for both small and large businesses.  Nita has won numerous awards for her business development and sales efforts in banking, including Commercial Lender of the Year in 2008.  She also specialized in Treasury Management to assist her clients with managing their cash and payments systems.
Nita spent nearly 6 years with the Economic Development Office of City of Cape Coral as the Business Recruitment and Retention Specialist.  She also served as a liaison for the local businesses to help them through the processes in the City from "cradle to grave"!  Nita's efforts brought in nearly $2 Billion dollars in new projects to the City of Cape Coral.
Nita implemented an International Best Practice Biz Walk in the City of Cape Coral visiting local business owners and gathering data to build stronger relationships..  Working very closely with Cape Coral Chamber of Commerce, SBDC, SCORE, SBA, Cape Coral Technical College, City of Cape Coral Development Services, CCCIA to improve the relationships with the City and ensure businesses were aware of the many free services available to them.
Nita's specialty is property development and taking projects from "cradle to grave"!  She excels at Customer Service and building relationships!  She understands what it takes to make a commercial development successful.
Nita has won multiple awards for her volunteerism too!  Nita is very active in Cape Coral and currently is involved with the following:
Cape Coral Chamber of Commerce Board Member
Leadership Class 2019
REIS r
CCCIA
Achieva Bank Advisory Council
Florida SBDC Advisory Board
FutureMakers Persistence & Completion Team
International Economic Development Council
Urban Land Institute
CCIM and CIP
Nita enjoys boating, the beach, long walks, and the beautiful sunsets we get to enjoy in Florida! She also enjoys helping her clients find the perfect project for them and the community.