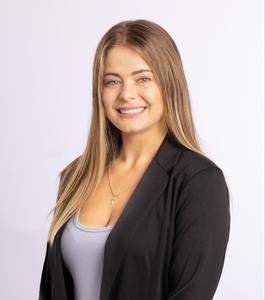 Sarah Giuliano
New Jersey
Sarah Giuliano, Realtor at Miloff Aubuchon Realty Group, was born and raised in Bayonne, New Jersey.  She was once a "Snowbird," a name many Floridians give the tourists who visit Florida every winter.  She fell in love with the calm, sunny and breezy atmosphere of Southwest Florida.  From experience, she understands the reason why so many want to call Florida their vacation home or new home.
Sarah went to college at New Jersey City University and has worked in the hospitality business since a very young age.  Meeting people from all walks of life and giving them a warm and welcoming experience is a quality she holds dear.  Working with others to put clients first and have a happy outcome is her goal.  Sarah joined the team at Miloff Aubuchon Realty Group in 2021 because of the training and hands-on learning experiences they dedicate to their agents.
Sarah is married with two children of her own, so sports and family activities take up most of her time when she is not working.  Coming from a family of hard-working parents proved to Sarah that what you put into it is what you get out of it!
Whether you are looking for your first home or forever home Sarah is ready to come along for the ride!  She will help guide you on your journey to making new memories!